#gold-hunter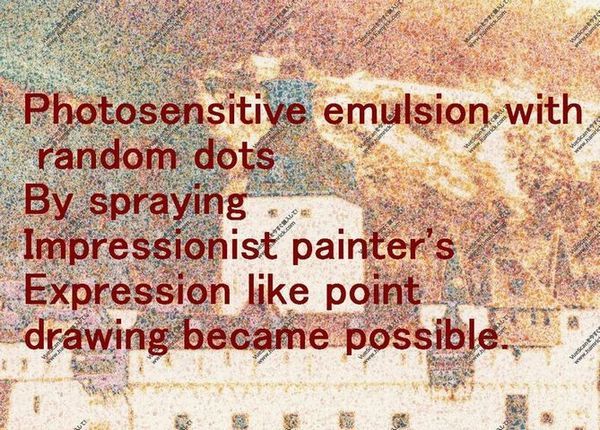 explanation 1. material
A. water resistance paper...
   Water resistance is a certain thing. 
A flat and smooth thing.
B. sensitization agent .. It is an object for silk printing.
C. Acetic acid vinyl .. They are water-soluble adhesives.
​​
​​
​
D. YMCK paints .... They are the pigments for pictures.
E. Ultraviolet ray exposure machine .. 
   Ultraviolet ray light is set in the box.
F. Film .... A longtone film etc. 
              is used about eight sheets from one sheet.
G. Water ........ It is tap water.
H. Color filter......Kodak No.25 No.29 No.58 No.61 No.47
                      No.47b Fuji SC-62 BPN-53 BPN-45


################



+++++++++++++++++++++++++++++++++

#UAP in Spain 1995 Minolta Alpha Camera-Kodachrome film*

The UFO was called #Flying Saucer, but this UAP is probably
a #Flying Cup, no matter how you look at it.

At the bottom of the object, a layer of atmosphere
like a force field is formed. # UAP
++++++++++++++++++++++++++++

++++++++++++++++++++++++++++
The actual color of the UAP shot on Kodachrome film is unknown.
This is because older scanners do not analyze Kodachrome.

#UAP announced by the US Department of Defense
A 35mm reversal image taken more clearly and three-dimensionally?
Is it metallic and has a hollow structure in the center?
A streak pattern can be seen on the body of the object.

++++++++++++++++++++++++++++++++
UFO sightings are every day, but ...
Most of them are illusions?
So it's rarely filmed.
There are movies, but most of them are edited?


++++++++++++++++++++++++++++++++

++++++++++++++++++++++++++++++++
Even with UAP, sharp images will not come out w You are cheated by infrared shadow puppets w

UAP's powerful weapon is the force field from objects. Even if a submarine collides, it will not break.

US10322827B2 - High frequency gravitational wave generator -
++++++++++++++++++++++++++++++++++++++++++++++++++++++++++++++


Obtained a higher resolution image than the UAP image announced by
the US Department of Defense. If you analyze it a little more,
you can expect new information.



$$$$$$$$$$$$$$$$$$$$$

#pigment #photo #print #handmade #art #dot #vintage

$$$$$$$$$$$$$$$$$$




$$$$$$$$$$$$$$$$$$$$$